MassMe the best vitrectomy recovery material
Continue to live almost normally during your recovery from macular hole or retinal detachment surgery. Our MassMe vitrectomy recovery equipment is a medical device made in France . This innovation supports your face parallel to the ground to live day and night more easily and succeed in your recovery after vitrectomy. Pure extension of your furniture, it fulfils all the functions you expect from it for your convalescence after macular hole or retinal detachment surgery, for a serene healing.
Using the MassMe cushion after vitrectomy
testimonials:
Product ordered, at the last moment, for a vitrectomy, the delivery was very fast. Thank you for your understanding and your professionalism. The product allows the neck and shoulders to rest for a better recovery. Thank you again for your help.
Headrest used after vitrectomy Very comfortable bubble position Very good service I recommend!!!
I am very excited about the headrest, it has responded perfectly to my problem following my eye surgery. I used it several nights in a row to sleep (I slept like a baby) and it relaxes my shoulders! I will now use it for massages. It's the best.
I bought this device for the convalescence after a Vitrectomy for macular hole. The device is very comfortable and easy to use: softness of the fabric and the foam. Fast delivery. I was very pleased with the quality of the product and the quality of the service I received. In short, total satisfaction… I recommend
Practical, comfortable and not too bulky, it can be taken anywhere. I bought it for medical purposes and I intend to use it again for relaxation. I showed it to the surgeon who added it to his pre-operative prescription.
The cushion is a valuable aid to support the postoperative period. It is essential to maintain a good sleeping position.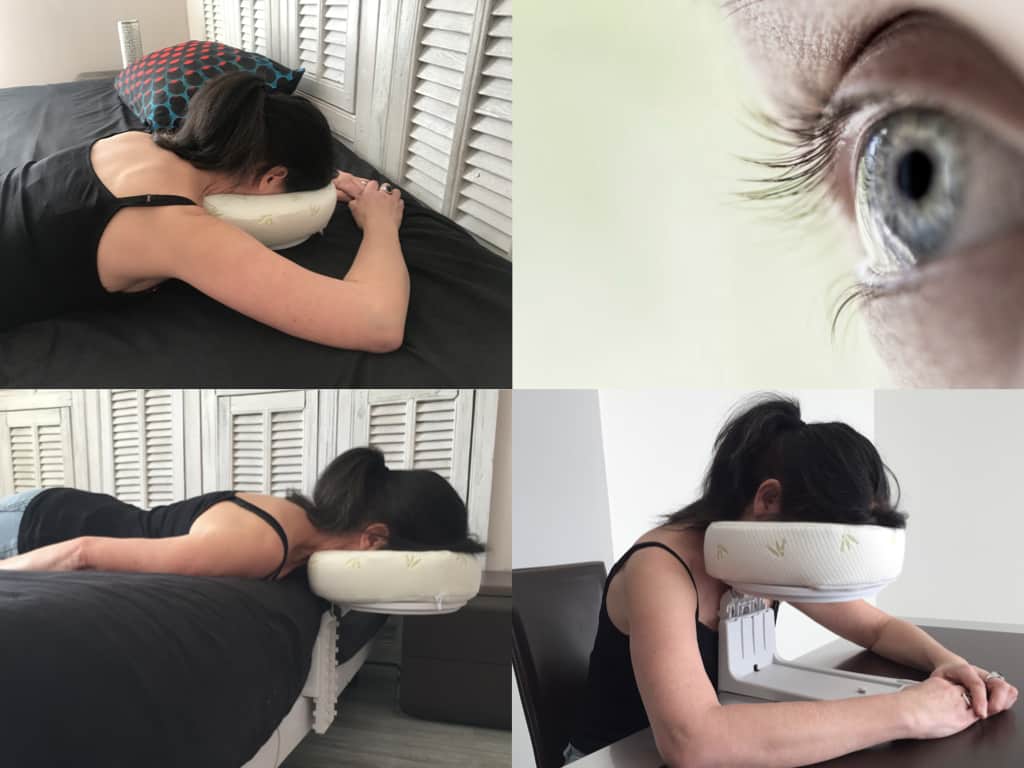 Contribute to recuperation after vitrectomy
MassMe is the appropriate additional medical support after macular hole surgery or retinal detachment by vitrectomy.
Indeed, the bubble position requiring you to keep your head tilted forward for several days, the MassMe face cushion is then the ideal solution to avoid muscular and cervical pains.
In addition, it will allow you to sleep comfortably on your stomach and maintain the correct position, to help you heal faster.
Lying down and sitting up: the comfort of your recovery after vitrectomy
The clever and versatile frame of our vitrectomy recovery material instantly adapts to any support of your choice, to keep you going at all times of the day and night . The memory foam and the anti-allergic and anti-bacterial Oeko-Tex® textile made of natural bamboo fibres in contact with the skin provide a welcoming comfort. Its design allows the insertion of a pair of glasses.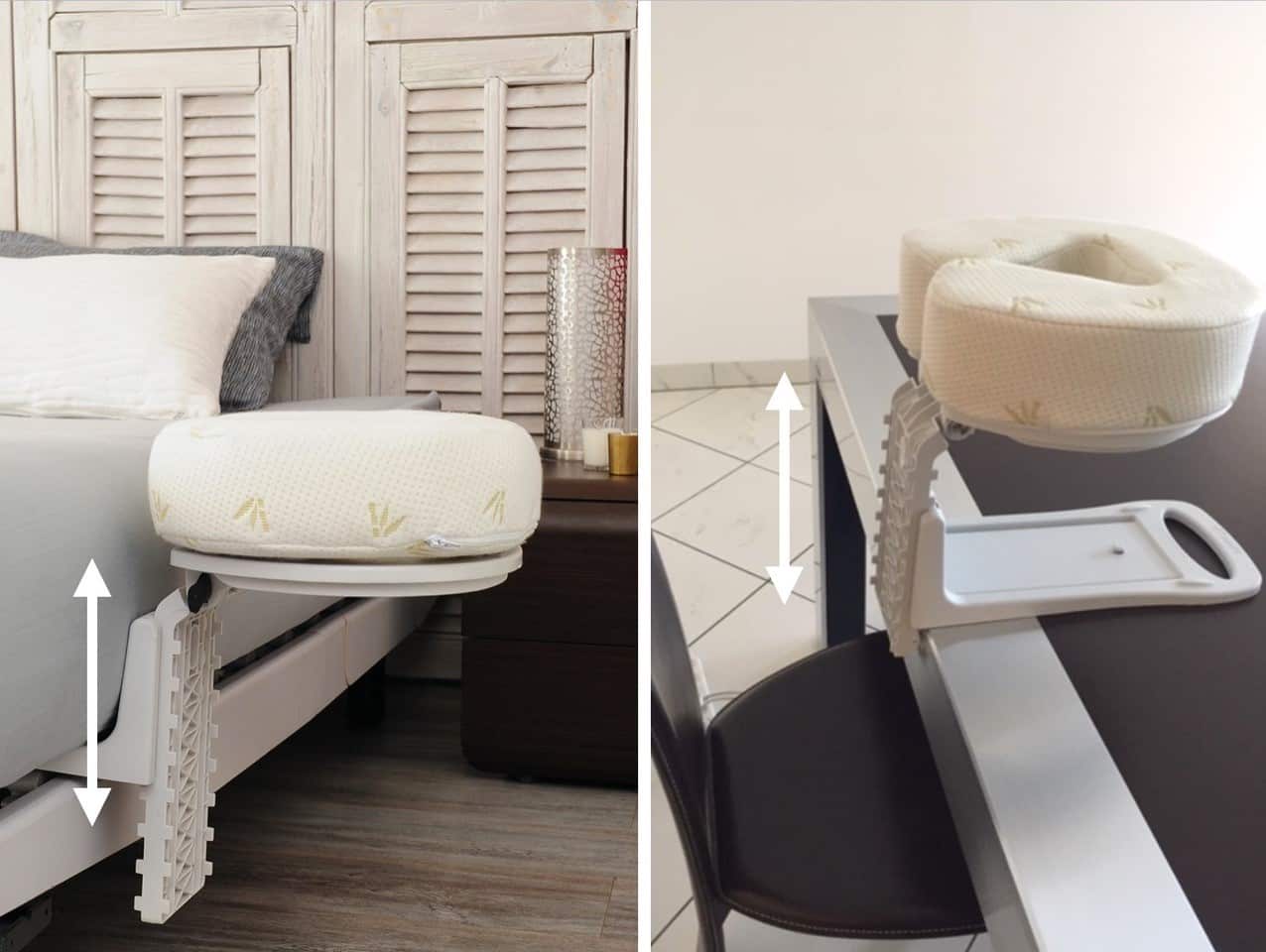 Day and night, your comfort is our top priority with our MassMe vitrectomy recovery equipment! 3 positions with only 1 device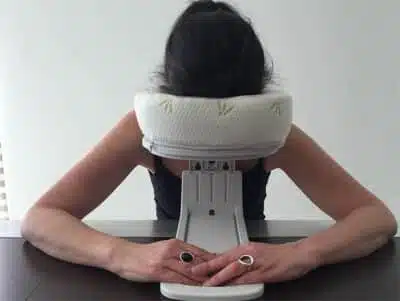 1 sitting position
On your desk or table, rest your face in your soft cushion parallel to the floor. The wide-open design of the cushion allows you to continue to socialise, converse, eat, write, read… even with a pair of glasses, while ensuring proper healing. Better than a vitrectomy recovery chair, your MassMe cushion follows you wherever you need it. Quick and easy set up guaranteed!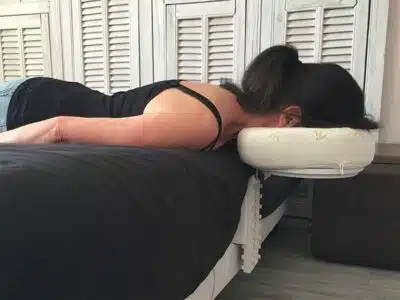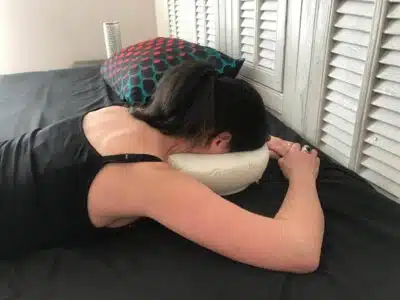 2 lying positions
Discover the best way to sleep during your recovery after a vitrectomy. The vitrectomy cushion allows two positions on your bed: off the mattress whatever its height or simply placed on the mattress. Easy to install, in a few seconds, your bed is ready for a comfortable night's sleep despite the post-operative stress. During the day, for your activities, the position outside the mattress allows you to see with or without glasses.
THE medical device that will relieve you during your recovery after vitrectomy
3 positions Lying on your bed with a cushion off your mattress, lying on your bed with a cushion on your mattress and sitting in your chair with a cushion on your table.
Durable Better than renting vitrectomy recovery equipment, your MassMe cushion will be useful after your recovery for your relaxation: massage, relaxation, nap and in case of recurrence or second eye surgery.
Ready to use No assembly time, no fixing required, it is immediately ready for all your situations.
Easy to use No floor space required, can be installed and adjusted on all your supports: bed, table, desk….
Ergonomic Your spine is perfectly aligned. The wide-opening cushion allows good ventilation for breathing, talking, looking with or without glasses.
Comfortable Memory foam with Oeko-Tex® bamboo cover is comfortable and pleasant to the skin.
Hygiene New equipment with a removable, machine-washable, anti-allergic and anti-bacterial bamboo textile cover.
Compact & transportable The device has a small footprint with an integrated carrying handle and weighs only 1.2 kg.
Patented and made in France 100% designed, manufactured and assembled in France with recyclable materials
Express delivery We ship daily for home delivery in Europe and worldwide.
Reimbursement Some mutual insurance companies cover all or part of your purchase.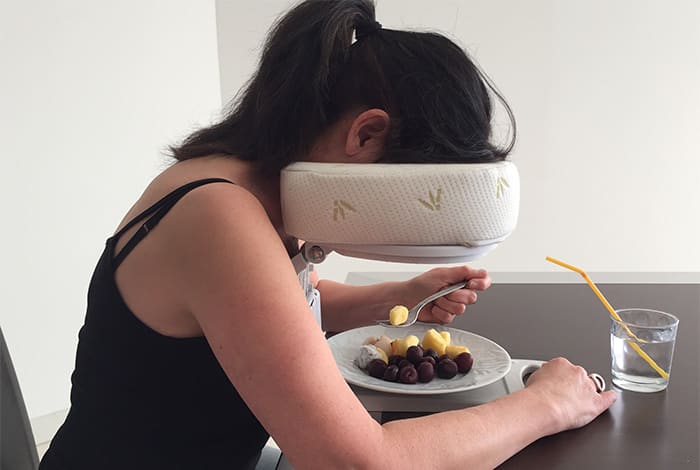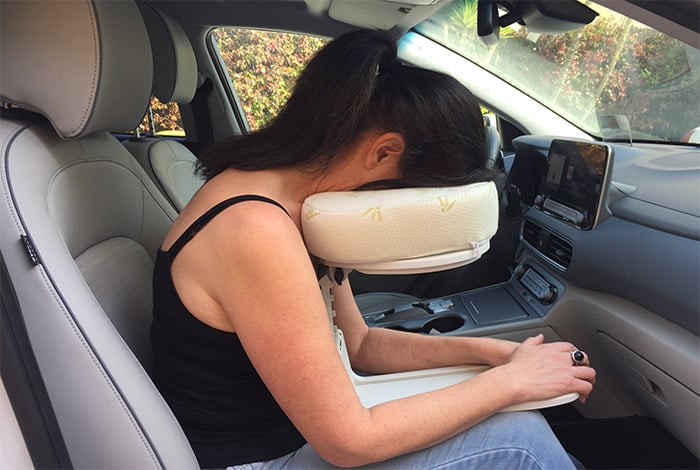 3 reasons to choose the MassMe vitrectomy cushion
Preserving your well-being
The bubble position will be imposed on you; our vitrectomy cushion will make your life much easier and will allow you to chat with those around you, to eat, to move around, to look and to sleep.
Head tilted the right way
MassMe, our device made in France, allows you to keep your head parallel to the ground throughout your recovery after macular hole or retinal detachment surgery. A secure postoperative device, validated by the medical profession.
Faster recovery
Our post-operation cushion relieves your neck, shoulders and spine during the recovery period, so that you can keep your muscles flexible.
The advantages of this vitrectomy cushion
Several uses are possible!
The vitrectomy cushion is much better than a rental of vitrectomy recovery equipment to be sent back. You buy it, you own it for life! It is a personal item, which accompanies you throughout your recovery. After your recovery, you can use it as a wellness aid for massage, relaxation or napping.
If you have to have more than one vitrectomy operation
In 10% of macular hole cases, you may have surgery on one eye and need surgery on the other. In addition to saving money, MassMe ensures that you have the right vitrectomy recovery equipment at your side in case of a second retinal surgery.