Made by us – fast delivery
The first WELLNESS ACCESSORY that replaces the MASSAGE TABLE!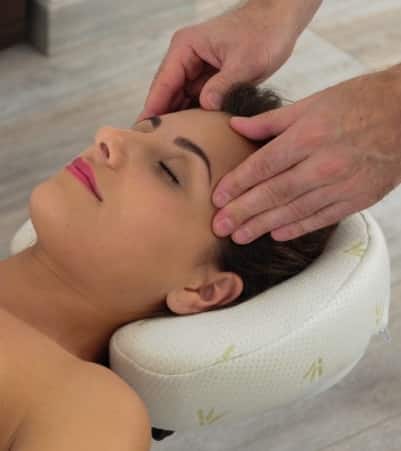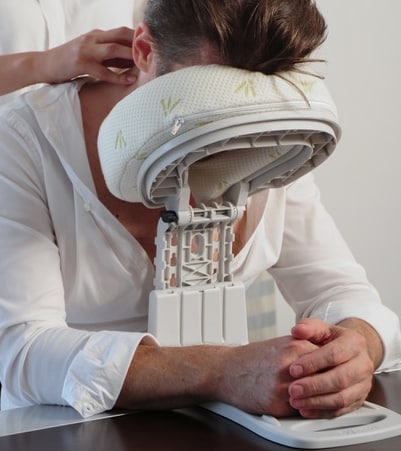 Join our customers who have adopted MassMe
Customers who have adopted our MassMe prove their
satisfaction, by testifying on the trusted site verified
opinions.
Wellness accessory for individuals and professionals
Massage accessory or relaxing headrest, MassMe is the ideal relaxation device for
individuals and companies who wish to improve their living comfort, but also their working
conditions :
The MassMe head support adds a massage
table function to your bedding.
Professionals, MassMe equipment upgrades
your massage or examination table,
enhances the client's experience and
comfort, and offers better mobility.
Specially designed for relaxing while seated
at work or at home, the MassMe Office
ergonomic headrest integrates the audio
function and thus contributes to the
prevention of psychosocial risks.
For people with neck pain, the MassMework
nap cushion with headrest supports the
occipital area and relieves pressure on the
cervical vertebrae in the neck.
After vitrectomy surgery for macular holes
of the eye, the MassMe headrest helps to
maintain the bubble position, whether you
are sitting or lying down.

Why is MassMe the ideal massage and relaxation headrest?
Lying or sitting, at home or at work, relax in all
circumstances, thanks to the universal ergonomic MassMe headrest.
Its compact and adjustable architecture, guarantees comfort and alignment of your spine,
on any type of support, in your room, as well as
in the massage parlour.
The MassMe headrest benefits from a unique technology in France for this type of device,
allowing use in optimal safety conditions for the back, neck, nape and shoulders.
Within everyone's reach, this ingenious headrest
relieves neck pain and provides a moment of absolute well-being.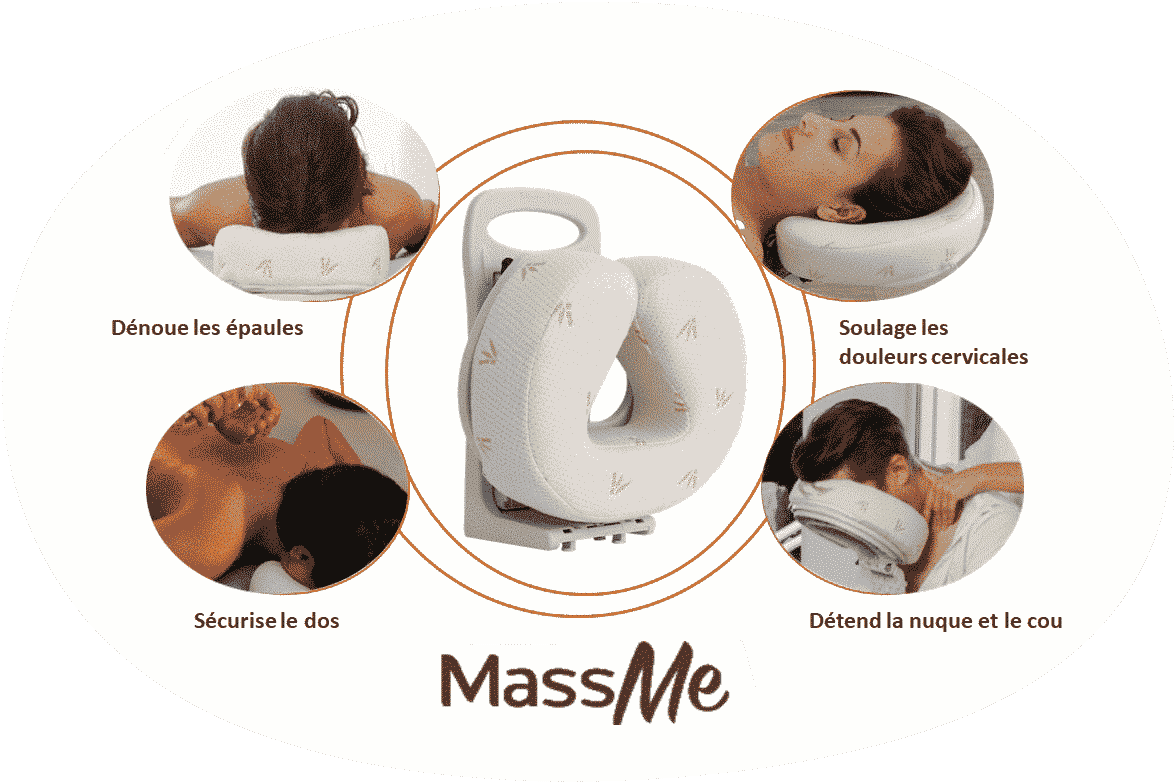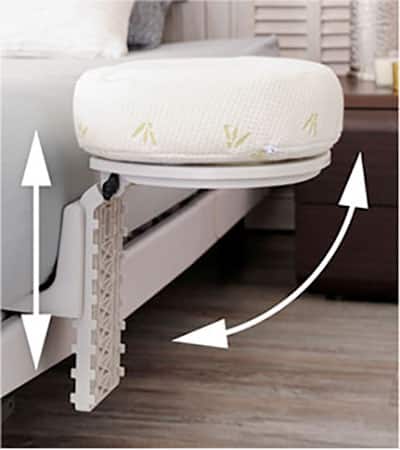 Multi-support and adjustable
MassMe is adjustable in height
and inclination. When lying down, it can be placed between the bed base and mattress, with or without a bed frame. It is compatible with fold-away bed, futon, sofa, sunbed, massage table. In seated mode, it fits on a table, a desk, a shelf, a counter, or a worktop.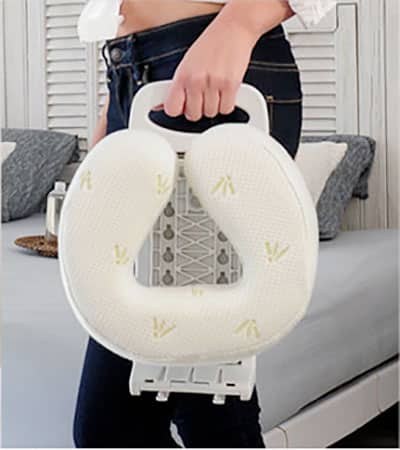 Compact and transportable
Thanks to the small size of the unit when folded up, you can leave it hanging on the bed or store it on its vertical support in your wardrobe. Its light weight of only 1 kilo, its large handle and compact design make the MassMe the ideal companion for business trips and outings.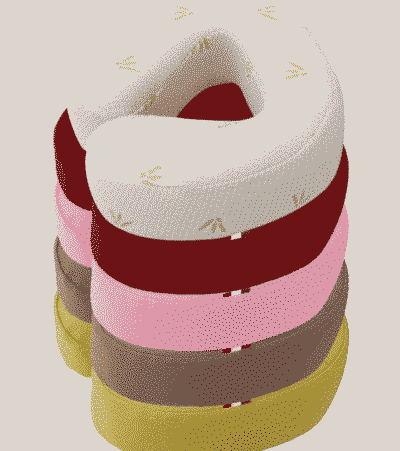 The memory foam of the MassMe cushion helps you to release all your body tensions.
Its wide-open design allows you to breathe, see and speak freely. You can choose between a leatherette or bamboo fibre textile version, with a machine washable cover.
Ideal gift for a couple's massage
I regularly ask my darling for a massage since he gave me the MassMe headrest for Valentine's Day.
We use it every time we need a moment of relaxation and it really helps our couple!
Magic for relaxing at the office
With MassMe, I discovered the
perfect stress solution.
I use it regularly when I spend hours sitting at my desk, to relieve my back and neck, because it immediately gives me a feeling of well-being and relaxation.
Very practical and easy to install
ordered the MassMe headrest as a massage accessory to be installed in a room.
I attached the device very easily to my bed without any tools and it hasn't left its place since! The cushion is super comfortable for the face and neck.
Designed, manufactured
and assembled IN FRANCE