Are you looking for an accessory to help you perform quality massages? Look no further than our Massme cushion which is number 1 among all accessories for manual massage.
How about improving your daily life with manual massage accessories?
Everyday life can easily become a source of stress and fatigue for our bodies. With all the running around, we almost forget that we need to take care of ourselves to be really productive. A moment of relaxation can be difficult to find during a busy day and muscular tensions accumulate. We are keen to offer you a product that will help you to relax easily on a daily basis, either alone or together. In just a few minutes, you will be able to regain your energy and follow your schedule while taking care of yourself. We offer you our MassMe massage headrest, ideal for massages for two, to add a touch of relaxation to your day. Among all the manual massage accessories available, MassMe offers you the opportunity to relax effectively and in a short time. You can also use it alone as a self-massage or simply as a headrest to effectively relax the ligaments of your neck and cervicals.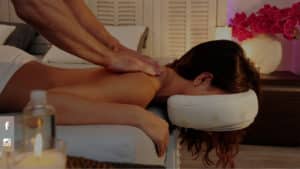 Can a manual massage tool soothe the mind and body?
Our MassMe massage headrest has been designed especially for people who are looking for a profitable moment of relaxation. Its ease of installation and removal makes it easy to move around without cluttering up your wellness space. For a short restorative break at your workplace or a massage for two, its small footprint will save you a lot of space. The soft cushion on which to rest your face will perfectly fit the shape of the cushion to help you release tension. It is easy to fold up so that it can be hidden from view when you are not using it. Whether you suffer from a variety of ailments or simply need a break to recharge your batteries, our MassMe massage headrest will meet your expectations. Your body and mind will thank you. You will soon find the vital energy you need to get on with your day!
Don't wait any longer to order your Massme massage accessory!