Headrest table massage and care for wellness professionals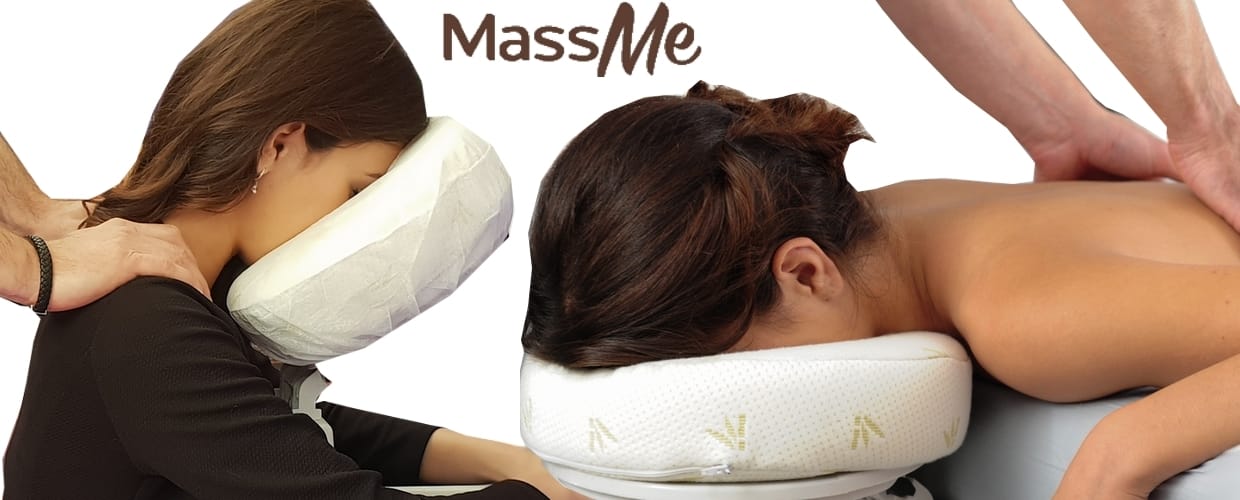 With the aim of improving the working conditions of health and wellness professionals, the MassMe ergonomic headrest has its his reason of being.
Indeed, this headrest for massage and relaxation not only optimizes the position of customers and patients, but its versatility and
practicality make it the ally of medical, therapeutic and well-being activities on a daily basis.
On the move, at home, in the office, in the workplace, MassMe brings you unprecedented comfort and mobility, replacing the massage table and massage chair, for seated or lying massage, medical or aesthetic treatments.
For what profession is the MassMe
ergonomic headrest intended?
Certified as a medical device, MassMe is suitable for activities carried out in the context of medical, therapeutic or aesthetic care, requiring a sitting or lying position.
Thus, it will gladly be added to the professional massage and care equipment as :
Headrest table for physiotherapy or osteopathy
Portable headrest for massagers at home or in the workplace
Professional massage headrest for massage therapists, spas, massage parlours
Relaxing headrest for hairdressers, in the salon or at home
Wellness device for sophrology sessions, body therapy, yoga rooms, naturopathy, holistic treatments
Medical accessory for medical bed, examination table, post vitrectomy care
Auxiliary headrest for nurses, home care workers,
occupational therapists, touch massage specialists
Headrest cushion for a chair or table for anti-ageing and aesthetic modelling treatments
Personalised relaxation area in the waiting room, rest
and relaxation room
In addition, the headrest can be used by students in school training to test their technical skills.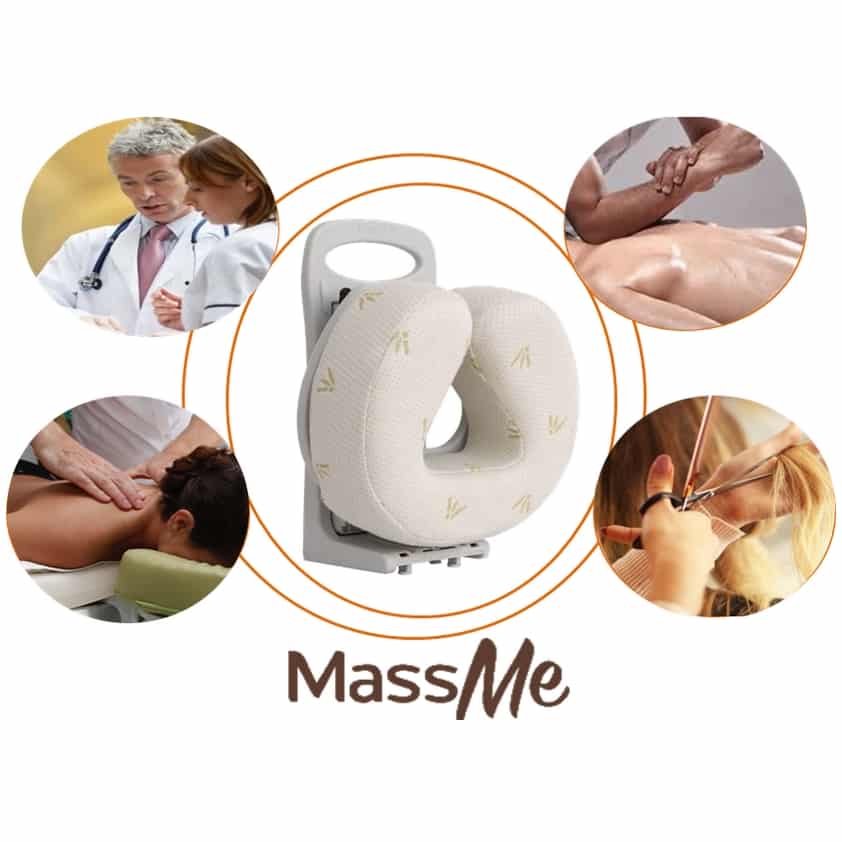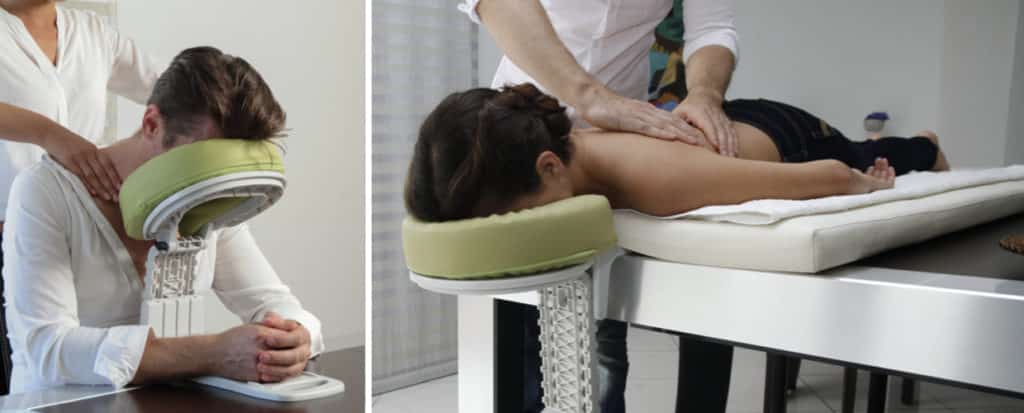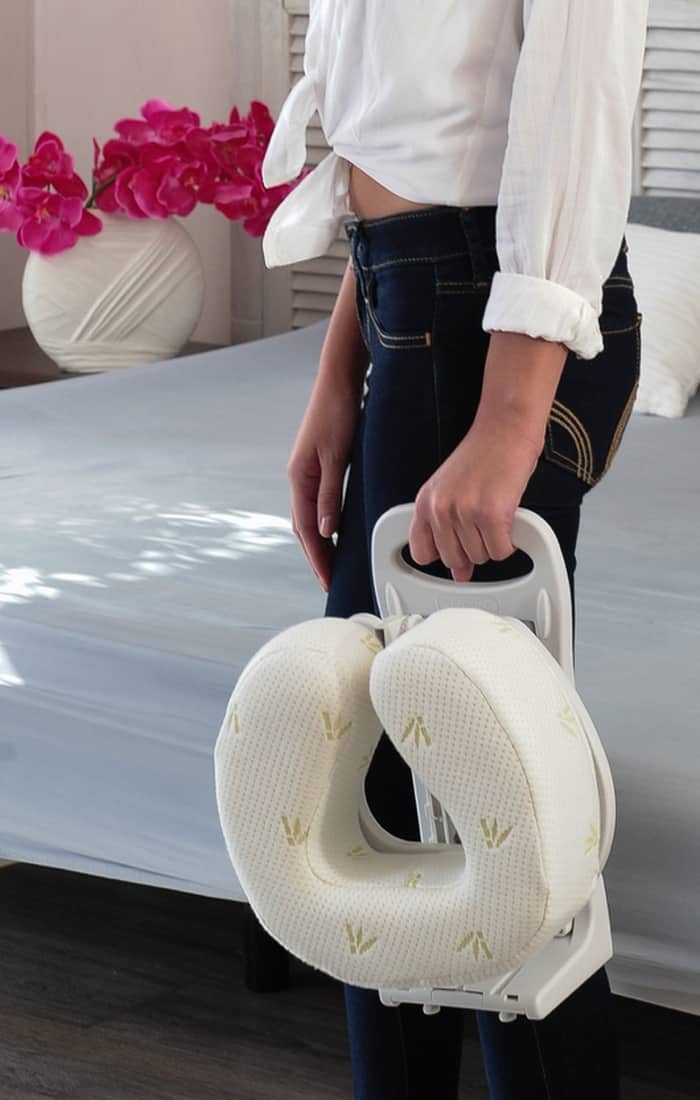 Portable headrest for business trips
With MassMe, no need to carry your heavy and bulky folding
massage table anymore!
Ideally used in home care services, the professional headrest is your lightweight transportation solution for replace your massage table or serve as a massage chair, at the client's house.
This portable kit of massage and care is the delight of practitioners on the move, who must manage their time and are often in an emergency:
Our clever headrest has the good idea to weigh just
over 1 kilo and has a carrying handle.
In addition, its small footprint and compact design allow you to transport it by car, scooter, or public transport.
The universal headrest, adjustable on all supports, can be fixed or installed very quickly, without any tools,
allowing the double position, sitting or lying, on table, chair, bed, or on the ground.
Between two visits, the imitation leather headrest
cushion cover can be quickly cleaned with a disinfectant spray, cleansing milk or baby milk. As for the textile cover made of bamboo fibre, you can remove it and exchange it in a jiffy, thanks to its wide zip. With a little more time, you can wash it by hand or in a short programme in the washing machine at 30 degrees, to go on a visit with a brand new cushion !
Why MassMe improves massage and professional care?
For massage sessions or quality treatments, the ergonomic structure of the MassMe headrest, combined with the relaxing virtues of its face cushion, offers an ideal positioning, sitting or lying down.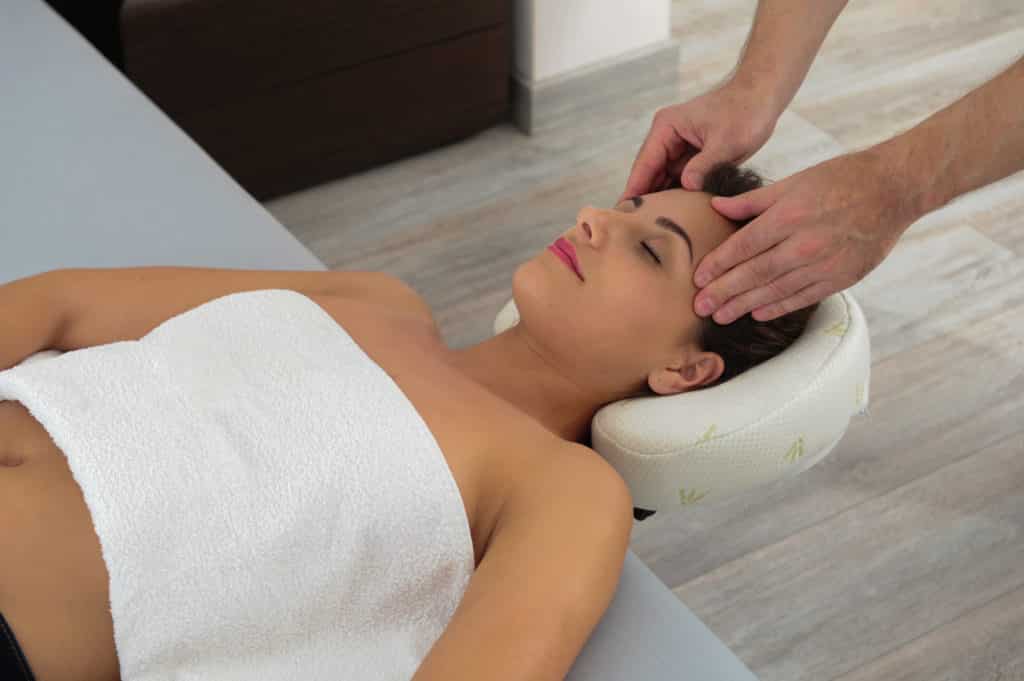 As soon as you put your patient's face or neck on it, the relaxation of muscular tension will automatically take place, resulting in the evacuation of stress !
In addition, the shape memory cushion design automatically corrects the posture to align the spine, as it conforms to the facial
morphology.
You will be able to administer therapeutic gestures or technical medical acts, on a person maintained in a stable position and in a favourable state of mind, to receive a puncture, an injection of an aesthetic nature, or acupuncture needles.
This support also makes it possible to manipulate the body during massage therapy or wellness massage techniques, designed to relax the muscles through pressure, tapping, stretching, or vibration.
Thus, the therapeutic headrest can be used safely as a positioning cushion during a back massage, as well as in traditional Chinese medicine as a shiatsu massage cushion, neck support during a reiki energy massage, cervical cushion for reflexology, or acupressure.
Discover all the uses of MassMe for professionals
Designed, manufactured
and assembled IN FRANCE