The nap cushion for the office

First office nap cushion to improve well-being at work
In order to improve the quality of life and health at work and at home, the MassMe nap cushion offers an optimised relaxation
space for employees and managers alike, in the office or wherever the working conditions allow it.
Our nap cushion at work is the first practical, modern, efficient and economical natural solution to recharge your batteries while
sitting, thanks to your ultra comfortable massage and relaxation cushion you can indulge in a privileged moment of relaxation.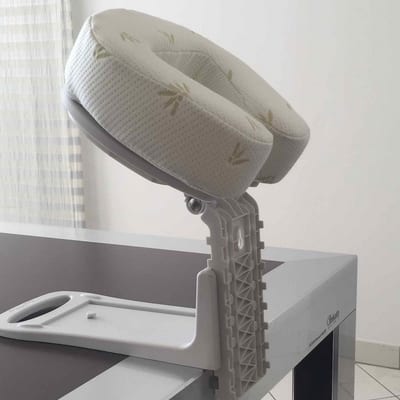 Relaxing headrest
Zero installation constraints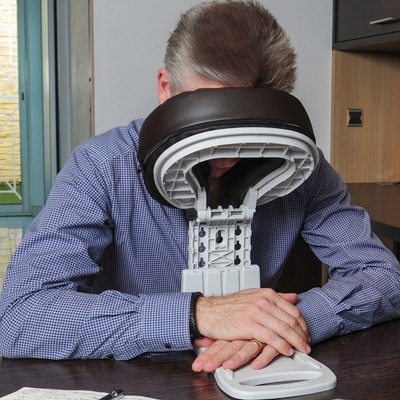 Relaxation sitting 20 minutes
100 % relaxation guaranteed
Relaxing with your MassMe nap cushion at
work: How does it work?
The universal headrest for massage and relaxation MassMe will accompany you wherever you are at work or at home.
In just a few seconds of installation, your nap cushion brings you a double physical and mental relaxation, allowing an absolute comfort to recharge its batteries, the time of a break in micro-nap, or in relaxation.
Until then, there was no suitable personal support for a few minutes of relaxation!
After isolating yourself by putting your mobile phone in "do not disturb" mode, you can comfortably place your head on the headrest's face cushion and your arms on its base.
At this moment, one can already feel the immediate effects of relaxation, thanks to the shape memory cushion, which instantly releases all nervous and muscular tensions.
The user can accompany his or her personalised relaxation space with the music of his or her choice, to escape for a few minutes of accompanied relaxation, to the sound of comforting and stimulating voices or noises.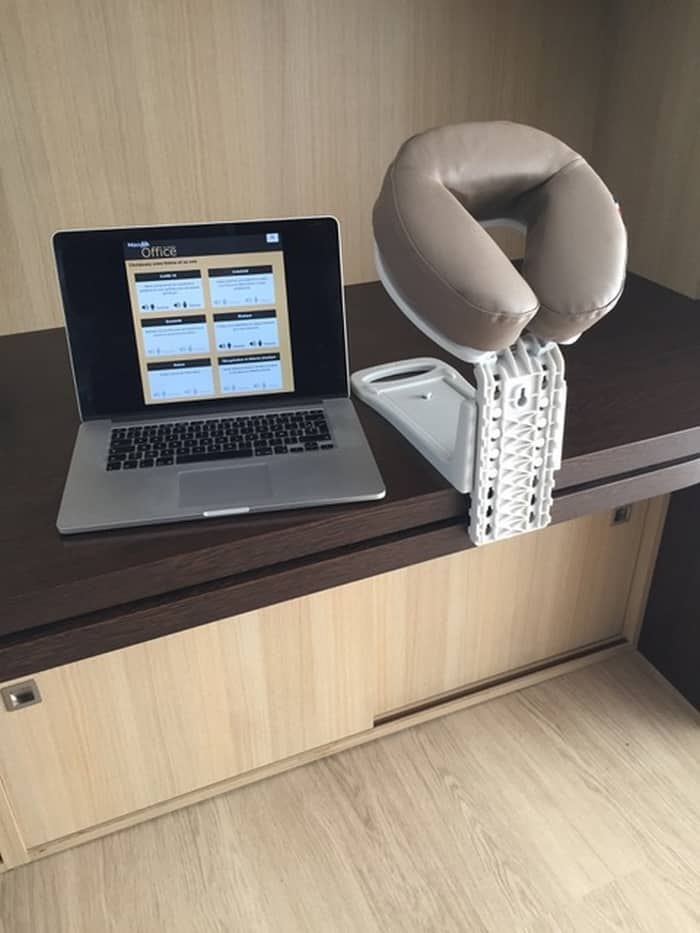 Find all the benefits of your nap and relaxation cushion at work
Covid 19 : Easier management of the impact of the pandemic on daily life

Creativity: Let your creativity express itself in full consciousness, in order to advance a professional
project.

Emotivity: Controlling emotions to transform them into a constructive and positive resource.

Physical recovery and relaxation: Remove fatigue and tension with a deep relaxation session.

Relaxation: Fighting stress effectively.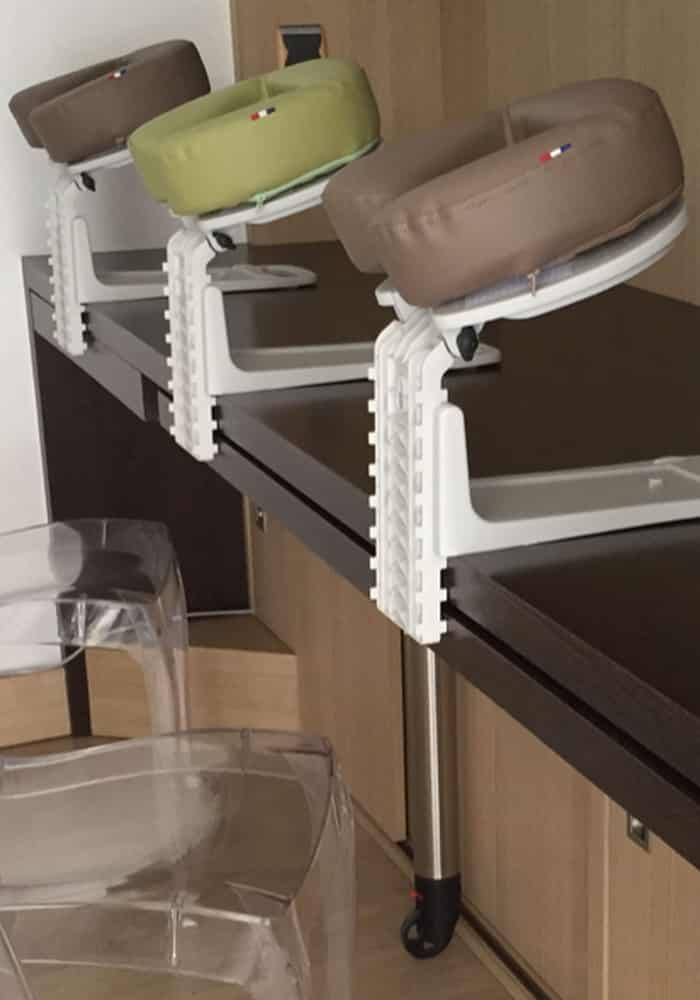 How can you create a relaxation area in your company with the MassMe nap cushion?
To create a wellness area that respects time management in companies, we have created a seated relaxation support, mobile or fixed, that can be installed in record time.
With our office nap cushion, there is no need to invest in sophisticated and expensive equipment to equip a rest room, which would not only require additional rental costs, but also daily cleaning.
The only requirement for the MassMe workplace nap cushion will be that it is placed on a horizontal support, either a table, desk, shelf or counter and has an available internet connection. But you can just as easily use the individual staff workstation, or a room specifically dedicated to employee relaxation.
Adjustable in height and inclination, the headrest can be used as a :
Individual desktop support
Table headrest in a meeting room
Headrest cushion in open space and in co-working
Positioning cushion for resting or waiting rooms, also to make customers wait!
A solution adapted to health risks, since for individual use and without any floor space, the headrest is compact enough to be stored in a cupboard or remain attached to its support, without encroaching on the workspace.
Add to this space-saving feature an express, tool-free installation, a featherweight of 1.2 kg and a large carrying handle, and our portable headrest can be quickly switched from one station to another and easily accompany you on your business trips.
THE MASSME CUSHION CAN BE USED BY WELLNESS PROFESSIONALS TO PROVIDE IN-COMPANY TREATMENTS AND
AT THE SAME TIME ALLOW STAFF TO ENJOY THE BENEFITS OF SEATED MASSAGE IN THE WORKPLACE.
How can the MassMe office nap cushion improve working conditions?
Workplace wellness has become an evolving societal phenomenon as business leaders have come to realize that an employee is
more productive when they are happy and healthy.
It is the challenge for the Human Resources Director, the head of the Prevention and Quality of Life at Work department, or the Chief Happiness Officer (CHO) to create a relaxation area for employees by offering a tool that is adapted and recognised by occupational medicine.
This is why the use of the MassMe office nap cushion is recommended on a daily basis, to combat fatigue, stress, improve
creativity, productivity, maintain attention and good humour and thus play a decisive role in the prevention of psychosocial risks.
With our headrest, wellness at work or at home means physical and mental relaxation, to improve performance while preserving
your health!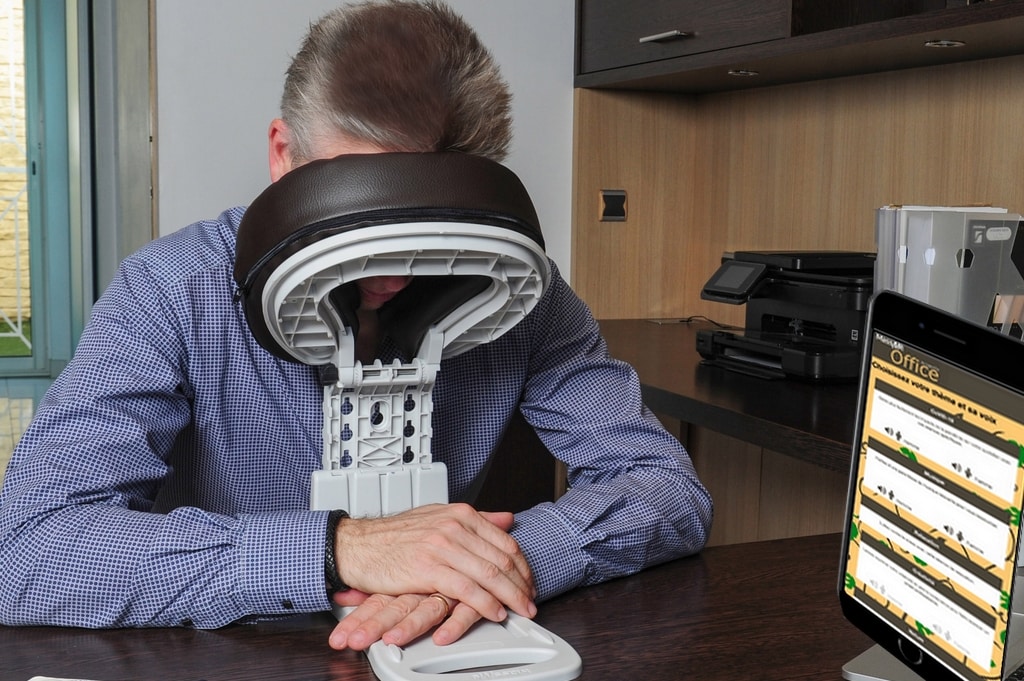 Enhancing well-being at work through
physical and mental relaxation
The MassMe cervical cushion achieves the dual performance of relaxing the body and mind, while providing a multitude of physical and therapeutic benefits.
To achieve optimal recovery  during break time, our wellbeing at work solution takes into account all the parameters to offer maximum comfort to its user.
Thus, the individual relaxation support allows an intimacy that a rest room cannot offer, putting the employee at ease and keeping away any parasitic noise around him, to fully enjoy his privileged moment.
First, the comfortable position of the headrest cushion helps to release cervical tension installed after long static positions, sitting at the desk, in front of a computer screen, behind a telephone, or in prolonged standing position.
At the same time, the face cushion will help relieve stress, so that you can relax more easily and your relaxation session will work more quickly.
Conversely, by relaxing the mind, the beneficial results brought to the mind will then act on the body and stimulate the user's energy and good mood.
Indeed, this deep relaxation allows you to get rid of all the
tensions accumulated during the previous hours, to pursue your professional activities with serenity.
A medical device, our nap cushion at work can be accompanied, according to your wishes, by meditative micro-sessions for a better life at work and to recharge your batteries effectively.
Relaxation or meditation with your MassMe nap cushion
calms both the body and the mind, leading to a state of mindfulness, to focus on the positive, breathe easier and keep cardiovascular accidents at bay.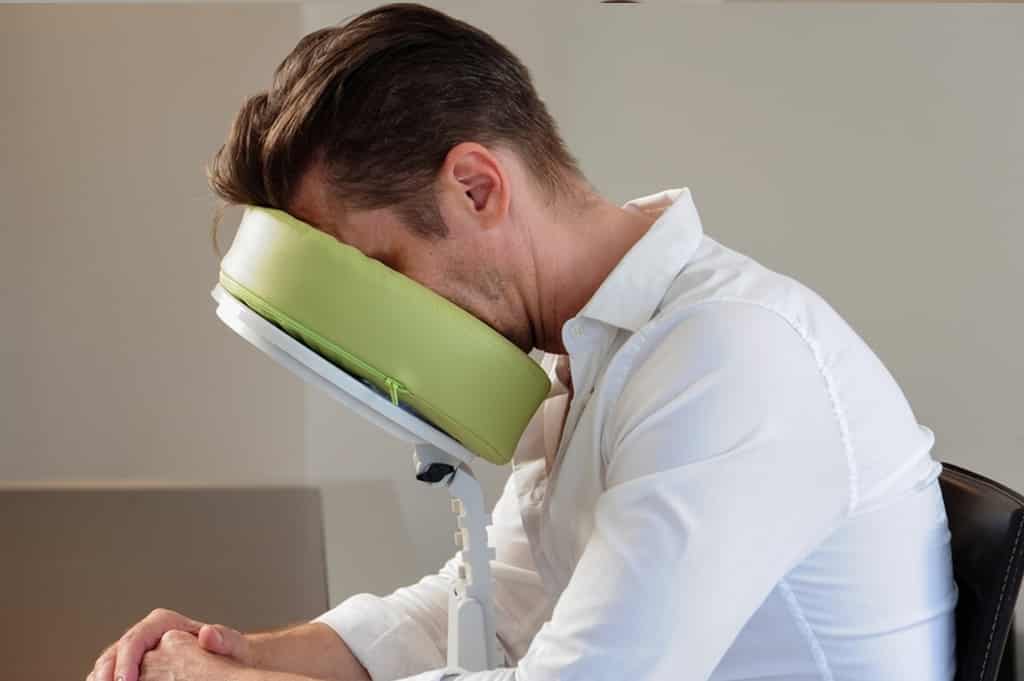 The micro nap at work to improve
performance
Whereas in Japan, the nap is compulsory at work and is a proof of dedication to the company, practised alone in the office or even in a work meeting, Western mores still have difficulty perceiving its usefulness. However, thanks to its very quick restorative qualities, the micro-nap satisfies an indispensable natural physiological need, to get a second wind in the middle of the day.
Based on the principle that in order to associate well-being with performance, occupational health must first be taken into account, we have designed the ideal tool to familiarize companies with micro-nutrition and its benefits.
The MassMe office nap cushion allows you to be in tune with yourself, to better understand a situation, to refocus on your priorities and to get rid of nervousness, fatigue, lack of concentration and other symptoms that disturb the quality
of your work. This state of absolute relaxation allows you
to avoid the after-meal slump and to remain alert, improve your reflexes, and regain your motivation and commitment at work.
Knowing that the nature of working conditions plays a major role in the rate of absenteeism and the famous burn-out, we
recommend that you adopt this nap cushion at work to prevent psychosocial and relational risks and increase staff productivity for :
Decrease errors due to sleep deprivation
Reduce prolonged or repeated absences and prevent musculoskeletal disorders, the leading cause of recognized occupational disease.
Avoid the presenteeism of employees who are present
without making a commitment.
Improve relationships between colleagues and avoid conflict through better management of one's emotions
Give a good image of the company
Attracting and retaining new employees
Using MassMe is part of an effective management policy,
because in just a few minutes, thanks to relaxing and
energizing breaks, you will find your employees ready to
resume their activities in a good mood, rested and relaxed!
Who is the MassMe office nap cushion for?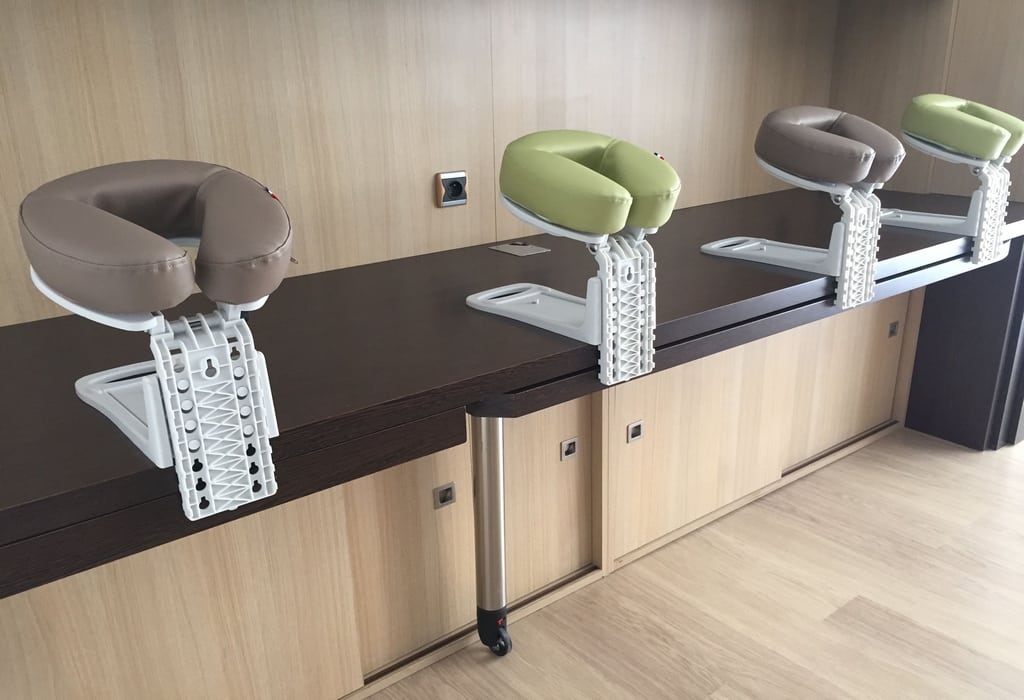 MassMe was created with the aim of providing a solution for rapid recovery at work, to contribute to the happiness of companies and employees.
Drowsiness, eye fatigue, loss of attention, occur naturally during the work day, particularly affecting overworked people, those who get up early and go to bed late.
In other words, all public or private sectors can benefit from the headrest and its website, considering that the vast majority of the population uses Internet services at home or in business.
At work or at home, in a company or in the community, MassMe is a wellness solution for relaxation while seated, ideally on a chair or an office chair.
Nevertheless, the headrest can be perfectly suitable for those who spend their days in the office, as well as for those who are active
outdoors, as it can even be placed on the knees!
By using only the base plate at the right angle and placing your head on the cushion, you can enjoy the benefits of the immobilized
device.
To keep their minds alert, night workers will appreciate a moment of relaxation with the MassMe work nap cushion, to isolate
themselves from the neon light and noise and regain full concentration.
Thanks to our mobile support, in the security and public order services, firefighters and law enforcement officers who need to make quick decisions with clear-sightedness, will be able to recharge their batteries and keep their vigilance.
The same is true in the medical and hospital sector, where staff, who are particularly stressed and overwhelmed by the coronavirus crisis, need to decompress and be on the alert at all times.
MASSME MORE EFFECTIVE THAN COFFEE!
COFFEE TAKES 30 MINUTES TO WORK, WHEREAS THE EFFECTS OF RELAXATION WITH MASSME ARE IMMEDIATE!
Designed, manufactured
and assembled IN FRANCE