The essential massage table accessory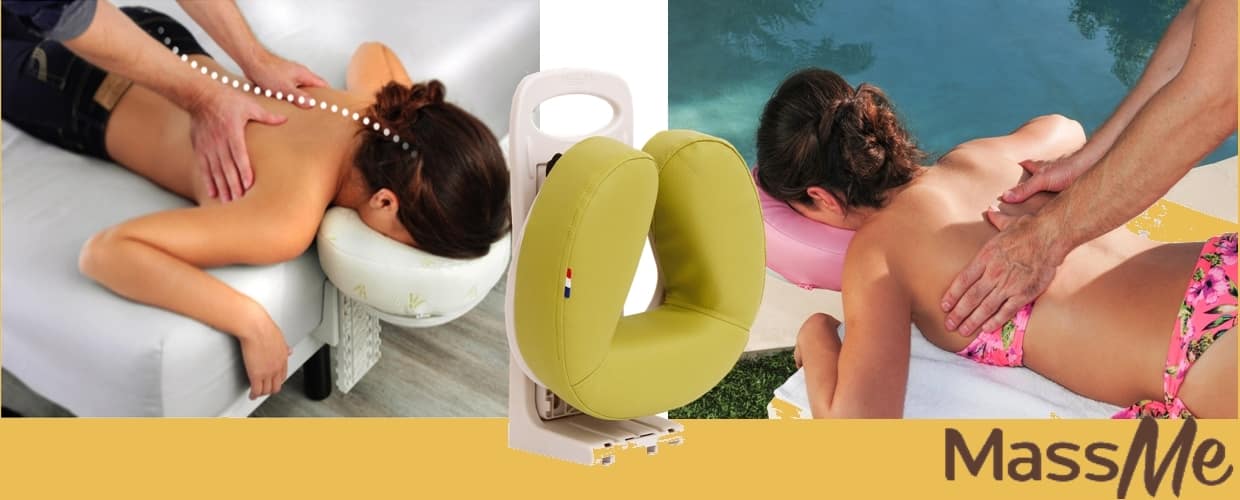 In our increasingly stressful lifestyle, the search for well-being at home has become a priority and involves the use of relaxation devices at home, aimed at improving the comfort of individuals on a daily basis, such as a massage table accessory.
That's why the headrest for massage and relaxation MassMe is designed to provide you with the best comfort, both in the comfort of your own home and on the move. It can be used as a face massage accessory or as a back massage accessory.
The wellness accessory to replace the massage table at home!
If the notion of massage on table at home is for you synonymous with constraint, whereas it should evoke pleasure, it is because you must certainly know these disadvantages:
You are exhausted from spending all your time setting up, folding, storing and carrying your folding massage table from one end of your apartment to the other.
You gave up the idea of buying a massage table, for these reasons!
The rooms in your home are too small to accommodate a professional massage table.
Many people leave their folding massage table in the back of a cupboard after a few uses for the comfort of a massage table in an institute.
But these obstacles can be overcome, thanks to the MassMe intelligent massage table accessory, the no-holds-barred
solution that will reconcile you with the benefits of home wellness massage. Discover our massage headrest.
The MassMe massage headrest alone will save you time, energy and space and save you expensive sessions at the massage parlour or physiotherapist! Indeed, this accessory for folding or non-folding massage tables is the perfect alternative to your cumbersome massage table that is difficult to transport.
To convince yourself of this, just compare the advantages of the ergonomic headrest with the disadvantages of the portable massage table.
Headrest for MassMe massage
Less than 15 seconds to install

Parking position on bed, folded to the side

Compact storage/Self-carried on base plate

French quality robustness : Tested on 3000 uses
Installation in several minutes

Space requirement: 1.33 m3

Used space: 6.5 m2, a whole room!

Requires time for disassembly and storage

Lift, fold up legs and accessories before closing the table.

Large volume to be stored

Made in china, without tests on the number of uses
How to create your wellness area with MassMe?
To create your relaxation space at home, MassMe uses your furniture to take its place in every room of your home, whenever you have need to relax…or get a massag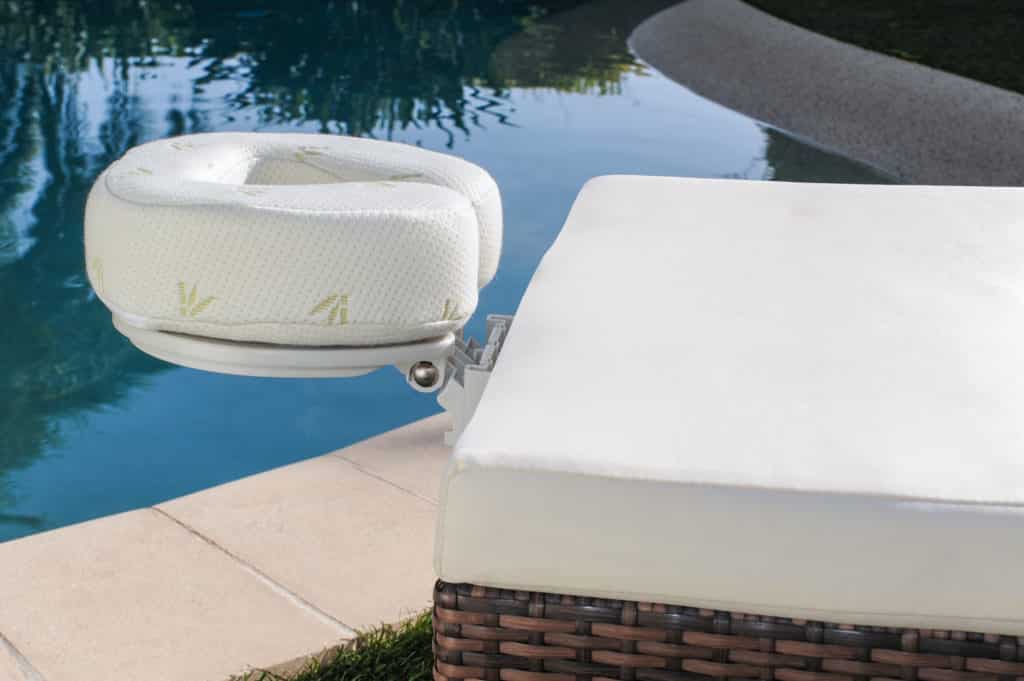 Set up your home relaxation area with your
massage table accessory
Multifunctional and multi-support headrest, it transforms a corner of the house, or its exterior, into an optimized relaxation area in the blink of an eye:
Facial pillow in relaxing position on bed or sofa bed
Relaxation cushion sitting on a deskchair
Headrest cushion for a living room, garden or terrace table
Reading headrest on sun bed and deckchair, by the
swimming pool
Massage accessory to be installed on your massage
table or on your bed
But you can also relax on a chair or stool, the headrest on the bar counter, or on your kitchen countertop.
A wellness accessory to share, it can be used as a rest and relaxation cushion for family or friends and immediately creates a friendly atmosphere around it.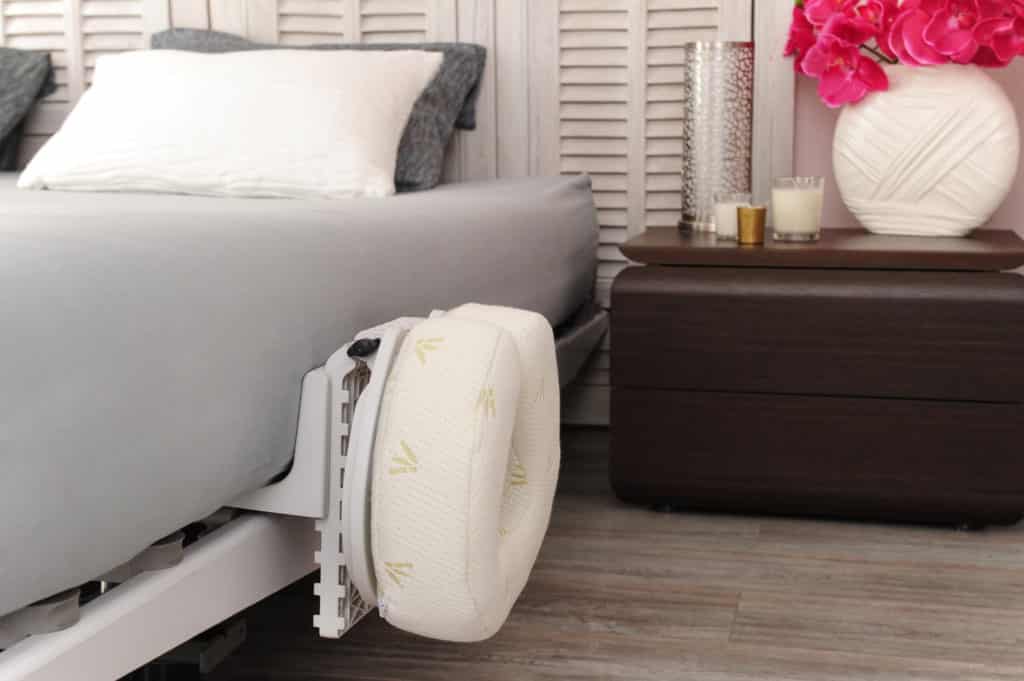 Your Massme massage table accessory will turn your home into a massage parlour
With MassMe, you can very simply transform your room
into a massage parlour, by setting it up as follows on one
side of the bed two places, at the end of the single bed, or
use it as a headboard for floor massage on futon.
From the massage kit for bed, to the face cushion for
massage table, it offers you a wide choice, to accommodate
your room according to your desires:
Cocooning massage in the bedroom: Turn your bed into a massage table by placing your massage accessory between the box spring and the mattress.
Think of your MassMe as a couple's massage kit.
Relaxing seatedmassage at the office: Place MassMe on the edge of the desk, so that your chair becomes a massage chair. MassMe is your relaxation accessory wherever you are.
Professional massage area on your salon table: Attach the headrest to the end, securing it to the table with a strap. Think of MassMe as a professional massage kit.
Wellness massage at home
What could be more enjoyable than a massage at home after a stressful day at work, after a workout where your muscles have been put to work, or after hours of sitting at the office that have sore your back.
Headrest for lying or sitting massage, MassMe allows you to enjoy the relaxing benefits of massage, with your partner, or by a
professional at home, in the same comfortable conditions as in a beauty salon.
How to give a good massage at home with MassMe?
Get a massage at home like a pro, it's possible with your MassMe massage table accessory!
Even though massage is a natural practice available to everyone, and has been since the origins of civilisation, the MassMe massage accessory provides such comfort that it improves massage sessions at home. Its ergonomic structure ensures perfect alignment of the spine, allowing the person being massaged to find the right position instantly.
Lying on your stomach or on your back, use MassMe as a face massage accessory or as a back massage accessory.
Sitting or lying down with MassMe, you will have the best
positioning during the massage, without having your head tilted to the side, thus preventing stiffness, lumbago or whiplash. On the other hand, the open cell cushion follows the morphology of the face and avoids pressure on the head or eyes, while allowing you to speak and breathe freely.
It becomes particularly effective during back massage, which can be practiced by any amateur at home, but requires a strong concentration on the neck and shoulders. The device is also perfectly suited for a facial or cranial massage, while lying on your back.
Whether on a bed or chair, or on the floor, you can safely use your massage table accessory for private use at home to easily perform a pressure massage, even if you are a complete novice.
With MassMe at home, you can welcome a professional at
home, with your own massage equipment and feel better protected, health safety obliges.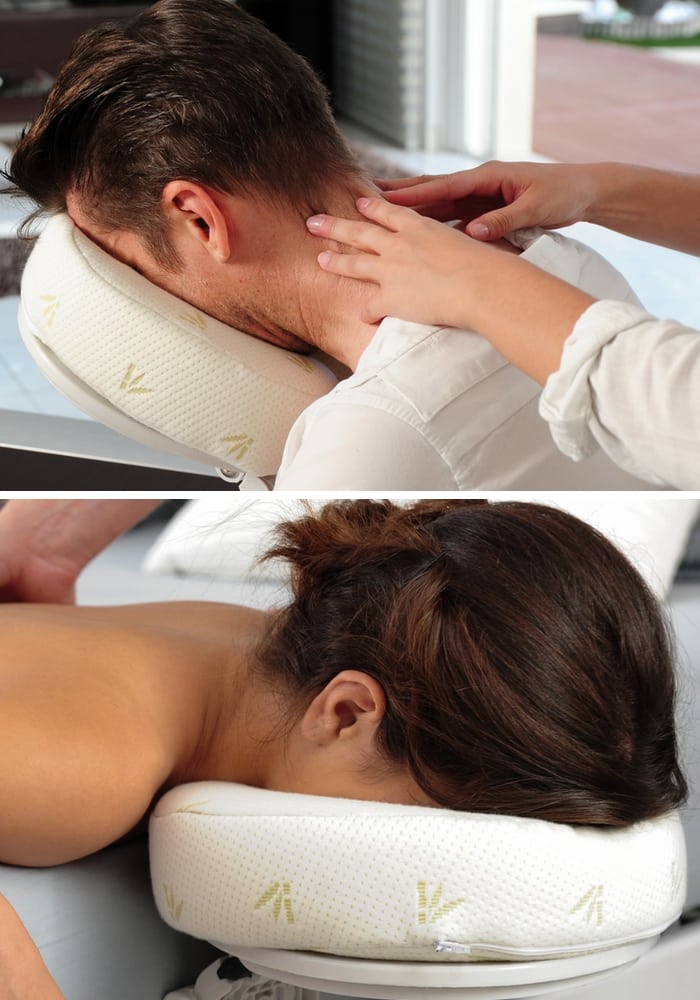 DON'T FORGET TO KEEP THE PRODUCT HYGIENIC BY CLEANING IT REGULARLY!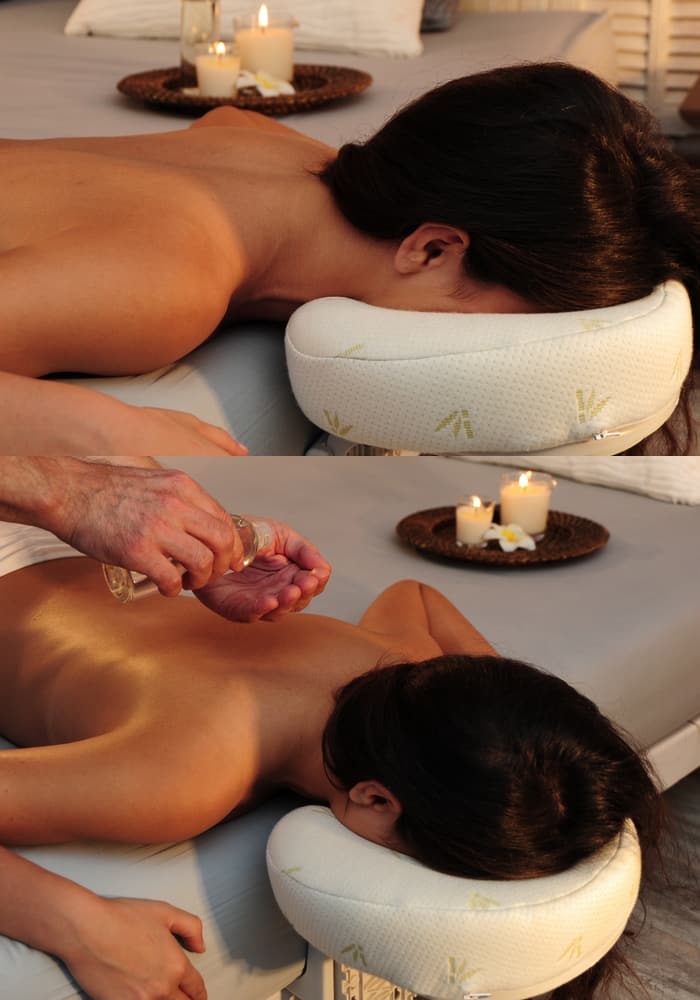 The ideal couple's massage accessory
Getting a massage from your partner is an opportunity to rekindle or keep the flame alive in your couple, paying particular attention to the other person's well-being.
A real massage kit for couples, MassMe will make you want
to enjoy the pleasures of a massage for two, at home, or
during your romantic trips.
To organize your duo massage sessions at home, feel free
to create a warm atmosphere in the living room, sensual in the bedroom and install the headrest on the floor for a sensory massage.
Practice couples massage with MassMe will help you to
find your complicity again, thanks to the many qualities of
this anti-stress device.
After use, you can leave it folded up on the side of the bed for unlimited one-on-one massages. In addition, the ultracomfortable massage table accessory offers an ideal position for the person being massaged, so that he or she can enjoy the massage technique chosen by his or her partner in the best possible conditions.
All the conditions are therefore required to enjoy a pleasant moment of emotional sharing and to trigger the love hormone, oxytocin, through touch.
To prolong the couple's harmony and happiness, add a touch of romance by offering them the pink massage cushion for Valentine's Day, or the red desire cushion, for sessions full of sensuality.
But you can also each order your own massage accessory, so that you can enjoy its relaxing benefits together and have a professional massage in your home.
ARE YOU LOOKING FOR AN ORIGINAL IDEA FOR A WEDDING GIFT?

OFFER MASSME IN A GIFT BOX FOR A COUPLE OF FRIENDS
WHETHER YOU'VE BEEN A COUPLE FOR 1 YEAR OR 50 YEARS, YOU'RE LOOKING TO PLEASE YOUR OTHER HALF WITH A
MASSAGE GIFT CARD FOR CHRISTMAS?
BETTER THAN A MASSAGE GIFT CARD TO PRINT, OFFER YOUR MASSME MASSAGE ACCESSORY FOR EVEN MORE
SENSUAL MUTUAL MASSAGES!
Wellness device for daily use
In addition to its use as a massage table accessory, the MassMe universal headrest has a strong relaxing effect, as soon as you place it on a bed or table top, to relax your cervicals, or evacuate your stress.
At home, on the road, at work, MassMe is the essential massage and relaxation accessory for those who need a moment of relaxation in their own right, whether you are a couple or a single person.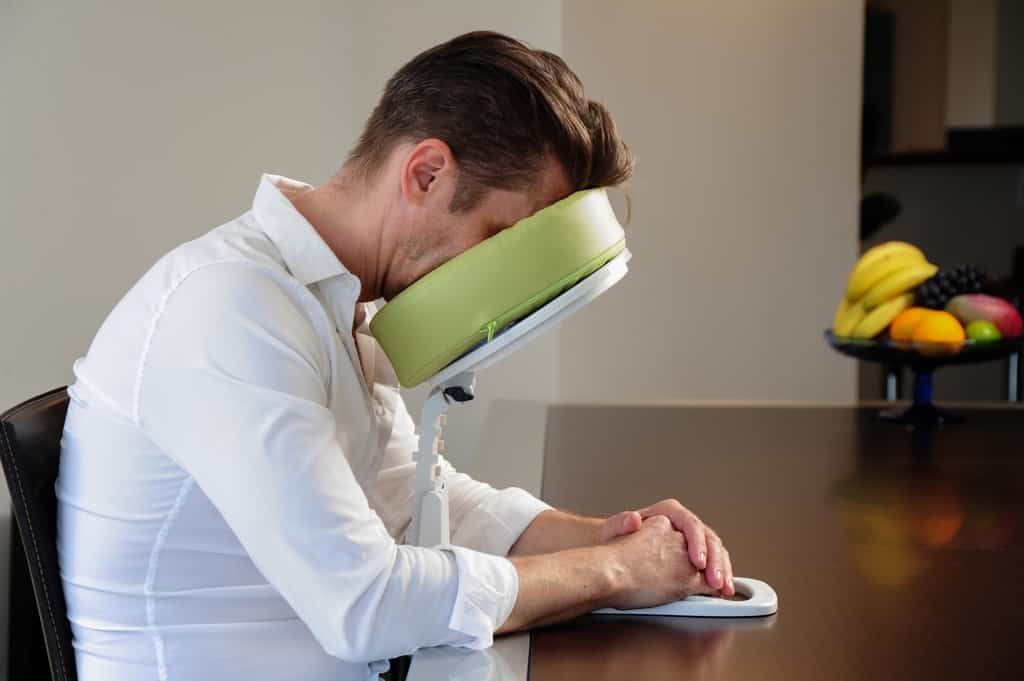 What are the benefits of relaxing at home with MassMe?
More than ever welcome in times of containment, due to the covid 19 crisis, MassMe is proving to be an effective therapeutic support. At a time when we are forced to stay at home and reduce our visits, this versatile headrest offers privileged moments of relaxation alone at home.
Indeed, it can help you to soothe your anxiety, by effectively
combating fatigue and stress, or relieve pain due to poor posture, sitting on your couch.
Simply press your face or neck on the memory foam cushion and immediately feel the physical and therapeutic benefits. The foam of the headrest cushion offers complete relaxation, thanks to its support and delicate touch, to release muscle tension.
Its relaxing properties help to relieve the back after hours of
sitting, sitting in front of the computer, or standing for long
periods of time. Sitting at your desk, you can take a micronap
break to relieve your cervical vertebrae, while the base acts as an armrest.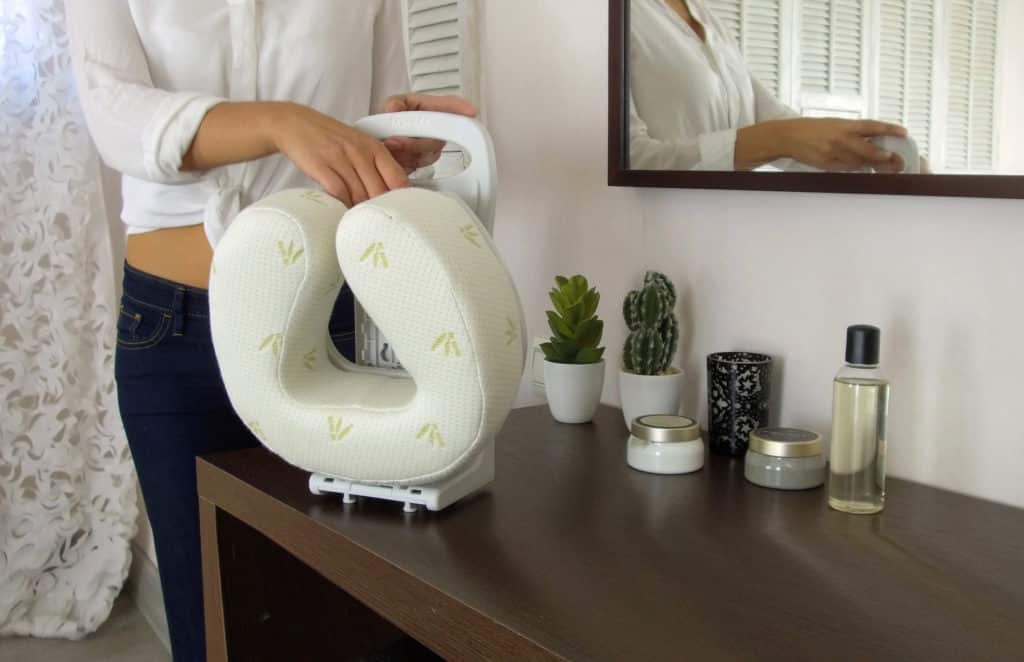 The clever headrest that improves your daily well-being!
Designed to make your life easier, MassMe has technical qualities that make it very practical to use every day:
Easy to install, it is adjustable on any support, without any fixing tool
Lightweight and equipped with a carrying handle, it
follows you easily on your travels.
Not very bulky, it can stay on its stand or make a place
for itself in your cupboards.
Compact, it can fit in the top case of a motorcycle or in the trunk of a car.
Resistant and durable, it benefits from a high quality
French manufacture
Economical, it replaces the sessions at the massage
centre, at the physiotherapist's or osteopath's.
Chic and aesthetic, it is the right gift idea for a Zen and well-being trend.
Ecological, it respects the environment by reducing
CO2 emissions.
Good for body and mind, it will not leave you once you have
tested its effectiveness!
Did you know that 15 minutes of relaxation with MassMe is enough to make up for a lack of sleep and
energy and a good mood?
Discover all the uses of MassMe at home
Designed, manufactured
and assembled IN FRANCE