Cervical pain headrest or MassMe post-vitrectomy support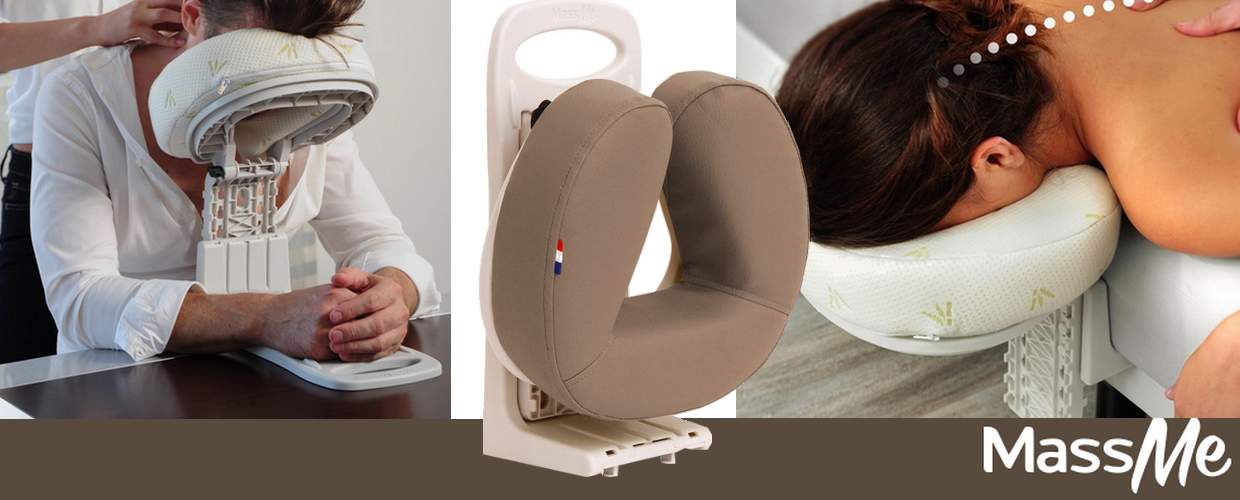 The MassMe headrest is a great medical and therapeutic support for neck pain, allowing you to fight and prevent disorders. Discover our vitrectomy recovery equipment
In addition, it provides additional cervical support during post-vitrectomy convalescence, to avoid neck pain due to maintaining the bubble position with the head tilted forward.
As an anti-stress device, our ergonomic headrest, used regularly for massage or relaxation, helps to improve and maintain well-being and health in everyday life.
Relieve and prevent neck pain
No more neck pain with the MassMe headrest, whose ergonomic structure adapts perfectly to the morphology and releases muscle tension.
The shape memory cushion helps protect the spine, neck,  shoulders, whether you are sitting, lying on your stomach, or on your back.
No risk of hurting yourself during a massage, or aggravating your headaches, because the headrest cushion does not force on the occipital area and does not press on the eyes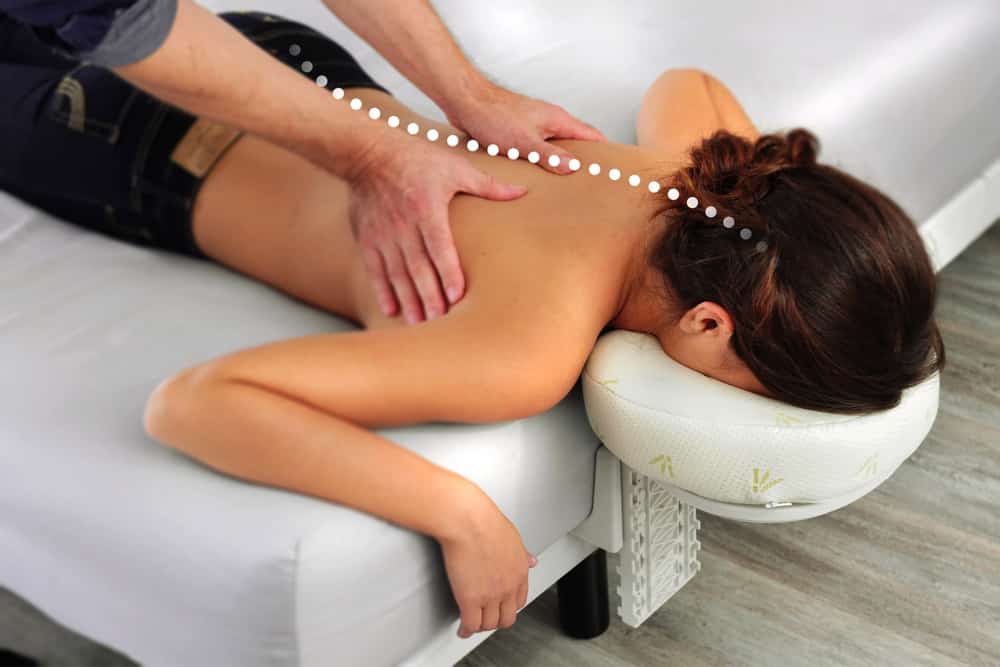 Massage and relaxation to combat and prevent neck pain
A massage and relaxation accessory, MassMe is a major ally in preventing neck pain affecting a third of the French population, due in particular to sedentary behaviour, the ageing of the population and the current covid 19 crisis.
In addition, this situation and the resulting confinement have become a source of stress, favouring the appearance of cervical tensions.
However, using MassMe on a daily basis can remove or alleviate these inconveniences, either at home or at work.
Massage with MassMe for physical and mental pain
In order to avoid or aggravate nervous or muscular tensions, massage with MassMe will play a decisive preventive role, saving you sessions with a physiotherapist or osteopath.
Adjustable headrest for massage table, massage chair, massage kit for bed, the device offers a wide range of choices for practicing massage. relaxing massages in couple or family, in complete safety, avoiding bad posture, neck blockage, or sudden neck movements.
A simple neck massage with MassMe can help stop headaches in one go, gentle massages of the scalp or neck in children can relieve stress, or a relaxing eye massage can reduce fatigue.
But you can also benefit from the intervention of a professional at home, who will be able to use your equipment as a support for a therapeutic or medical massage table.
The universal massage head is therefore ideal for reducing pain during specific massages, or for arthrosis and joint and muscle problems.
Accessory for connective tissue massage against orthopaedic diseases, cervical syndrome, rheumatism
Therapeutic apparatus for plantar reflexology against stress and insomnia
Neck massage headrest for the relief of osteoporosis
Shiatsu pressuremassage cushion, ideal for cervical vertebrae
Headrest for Thai massage or Ayurvedic massage, preventive and therapeutic
The massage therapist can also perform an appropriate energetic massage, facilitated by the use of the seated massage headrest, perfect for softening the neck.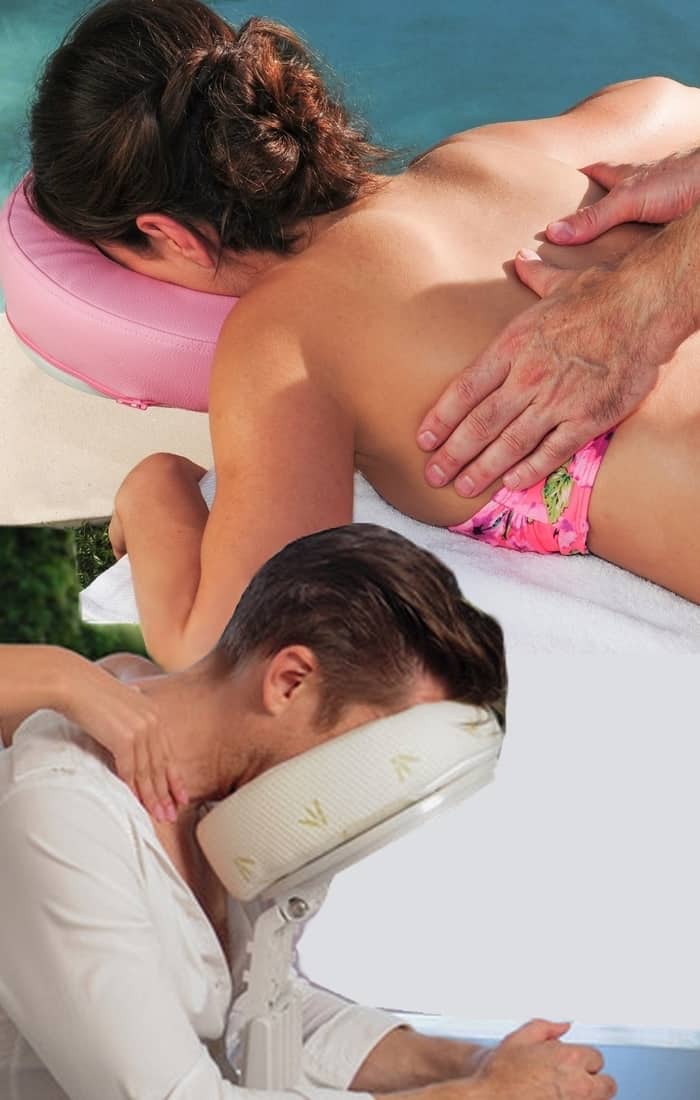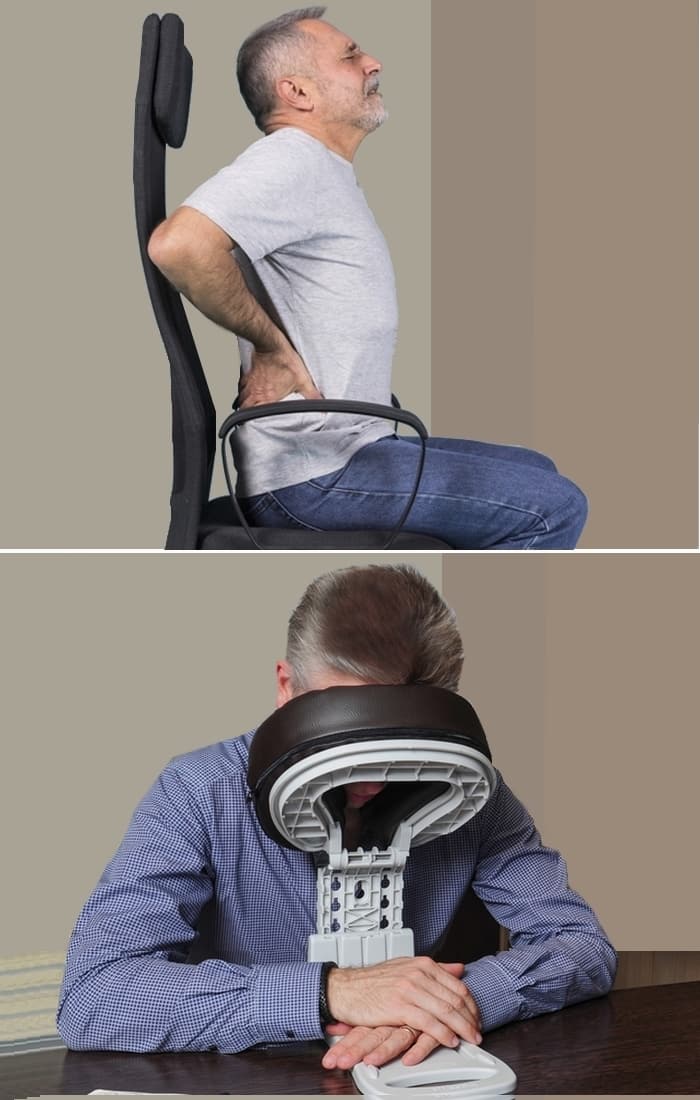 The therapeutic benefits of relaxation with MassMe
An alternative to anti-inflammatory drugs, MassMe is the natural therapeutic solution that will allow you to relax instantly, to remove or make nascent cervical pain disappear.
Sitting in the same position for too long, with your back hunched over, staring at your computer, laptop, or television screens, will not help your back pain or eye strain.
As a result, painful cervical pain affecting the nervous system can cause nausea, buzzing, lack of concentration, loss of balance and dizziness when sitting or standing.
To alleviate these symptoms, a session of relaxation on the MassMe headrest cushion provides absolute comfort, muscular relaxation and instant release of cervical tension. In addition, when used as a reading headrest, it prevents torticollis and stiffness in the neck.
Against the harmful effects of stress, our wellness support helps you to regain concentration, calm and serenity, by relieving chronic fatigue syndrome, or tension headaches, common headaches accompanied by pressure on the head, more or less insistent.
In just 15 minutes, MassMe provides soothing relief and a comforting energy boost to combat insomnia that causes cervical syndrome and lower blood pressure in the elderly, which can lead to dizziness.
But its many relaxing properties are equally well suited to children, who on the one hand suffer the stress of confinement, and on the other hand spend whole days on their tablets or smartphones, from a very young age.
For example, the ergonomic headrest, which is certified as a medical device, offers relaxation and meditation as a therapy to replace drug treatment.
Convalescence vitrectomy: Avoid neck pain with MassMe
Following a vitrectomy operation, the MassMe headrest is a great medical support for people who need to keep the bubble position.
After macular hole surgery, the injected gas bubble presses on the back of the eye at the location of the orifice, making it mandatory to position the head tilted forward, looking down.
Without compliance with these requirements, it will be difficult to regain your sight quickly and complications can occur.
In these conditions, keeping the bubble position for several days without the right support is a miracle!
This is why the clever headrest will become the essential accessory to face this challenge with serenity and help you maintain the position facing the ground, sitting or lying on your stomach.
On the other hand, the shape memory cushion will allow you to continue to read, work and even watch TV by placing an inversion mirror on the floor, so you can see your screen at 90 degrees.
In addition, the recovery cushion will be the ideal solution for not adding neck pain to your disability, allowing you to relax muscle contractures.
As a day and night support, the positioning cushion will actively participate in the postoperative rest of the eye, even while you sleep, where the head naturally tends to tilt to one side or the other.
Throughout your convalescence, the MassMe Vitrectomy Kit will therefore be your best ally, to improve the final result and help you heal completely, as quickly as possible.
Designed, manufactured
and assembled IN FRANCE