You want to mark a special occasion and you're wondering what to give to your friend. what gift to give to a couple what to give a friend. Look no further, we have a gift idea for couples that is sure to please whatever the occasion.
Looking for an original idea for a gift for a couple?
For a birthday, Christmas or simply to please, you want to mark the occasion with an original gift. Thanks to our headrest, ingenuity is combined with comfort so that you can help your couple of friends to take care of themselves. Without leaving the living room, they will be able to treat themselves to a moment of intense relaxation thanks to your atypical and ingenious gift idea. By turning to a goal of relaxation and reunion for two, you will mark the spirits for sure. This relaxation accessory for two will help you prove to your friends how much you love them. There's nothing like giving a gift that's so practical and comfortable. Now it's time for them to sit back and get ready to be massaged by their loved one.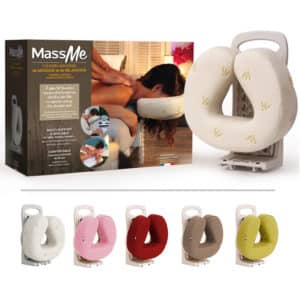 What are the advantages of this original and relaxing gift?
MassMe helps you find the perfect wedding or Valentine's Day gift. Our headrest has been designed to offer you relaxation at home without taking up the space of a massage table. Its intuitive installation allows it to be placed on any interior surface and moved around as you wish. Designed for absolute comfort and to perfectly fit the shape of the face, it helps the muscles to relax instinctively. After use, it can be easily folded so that it doesn't take up any extra space. Wondering where to find an ergonomic and tenderly useful gift for a couple? Our massage headrest is an undeniable sign of affection for those who receive it.