Are you looking for a Valentine's Day massage kit ? You've come to the right place MassMe is the perfect gift for all lovers.
Looking to give your loved one a massage kit for Valentine's Day?
You want to offer an original gift that is a little out of the ordinary and that can provide care and well-being to the person you love. Thanks to MassMe, you will be able to offer your partner massages that will allow him or her to be comfortably installed with a perfect spinal alignment during your massage sessions. It's a promise full of delicacy!
Thanks to MassMe, no more stiff neck and neck pain after a massage that was meant to be gentle. Lying on the bed, on your stomach to expose your back to the most tender of massages, you surely already know how to position your head. In this position and especially in this context of massage which imposes relaxation, it is really a shame not to know how to position yourself easily to be comfortable. That's why your MassMe massage headrest is the essential tool for your Valentine's Day. Better than a massage table, you won't have to take up floor space or waste time setting up. Thanks to its ergonomic shape and ease of installation, it will allow you to perform your massages easily and without risk of neck pain for your companion.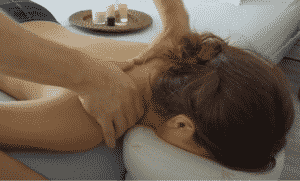 The perfect massage kit for Valentine's Day, your MassMe cushion is a gift full of promise…
As a sign of attention, kindness and affection, by giving your Valentine a MassMe cushion, you are ensuring that he or she will be pleased. Our MassMe massage kit is the perfect demonstration of your devotion. A true proof of love!
Don't hesitate any longer, order your MassMe to give a gentle massage for a successful Valentine's Day!
Click here to to choose the MassMe massage cushion model that will please your Valentine.